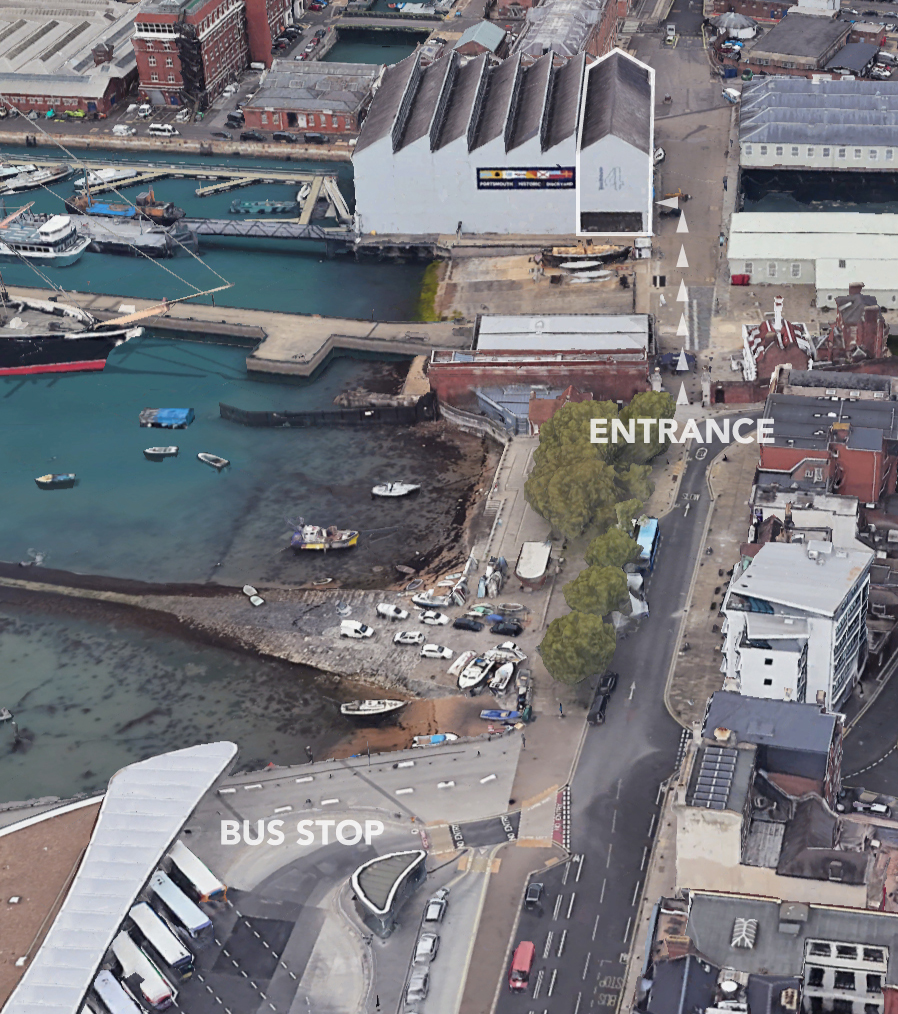 Where are we?

Boathouse 4 Restaurant is situated in Boathouse 4 building in Portsmouth Historic Dockyard. This is located within Portsmouth Naval Base with entry through Victory Gate at the corner of Queen Street and the Hard.
Please note:
There is no need to pay to get into the Dockyard, just say you are dining at Boathouse 4.

Boathouse 4 was constructed in the rearmament period before the Second World War. Not only the home of
Boathouse 4 Restaurant
but it has been restored and converted into a Boatbuilding Skills Training Centre and is the home of International Boatbuilding College Portsmouth.
Portsmouth Historic Dockyard is easily accessible by bus, taxi, and park and ride, all of which are five minutes or less away from our main entrance. If you want to drive why not take advantage of the free parking available at our Gosport sites and take a quick trip on the waterbus* to our Portsmouth locations.

Car parking and Park and Ride

Portsmouth Historic Dockyard is less than 5 miles from Junction 12 of the M27, follow the brown and white signs to 'Historic Dockyard' which will lead you to our official 295 space car park which is located only 400 yards from the entrance at Victory Gate. If this car park is full there are others within close proximity at Gunwharf Quays and Havant Street. Please see our car parking page for more information.

Finding the car park
For those using satellite navigation devices, please use the postcode
PO1 3GW
and follow the brown tourism signs for the car park. The car park is located on Admiralty Road which is just off Queen Street.

Park and Ride
The Park and Ride is conveniently located on the M275 offering a fast and reliable service into the city. At peak times, the service runs every 12 minutes. It is open seven days a week and stops at The Hard which is a 5 minute walk from the Historic Dockyard.
For more information on Portsmouth Park and Ride, please visit the Park and Ride website.

Alternative Parking
If on arrival you find that this car park is full, please follow the signs to the alternative car parks locally which are signposted from Queen's Street or at Gunwharf Quays, which is within five minutes walk of the Dockyard.

Motorcycles
There is a designated area within the car park for 20 motorcycles. If you park within these designated areas, you will be eligible for 1/2 price parking (if you park in a standard car parking space this offer does not apply) and this must be claimed from the car park office during normal opening times.

Camper Vans
There is a Pay & Display car park situated on Havant Street which is suitable for camper vans. This is around a 5-minute walk from our main entrance.

General Information
The Portsmouth Historic Dockyard car park in Admiralty Road and that at Gunwharf Quays meet the most up to date standards and are manned and covered by extensive CCTV surveillance. However, as with all car parks, visitors are strongly advised not to leave any valuables in their vehicles during their visit to the Portsmouth Historic Dockyard.


Get Directions

If you are using a Sat Nav device, our car park postcode is
PO1 3GW
(Admiralty Road)

Park and ride service

Portsmouth's park and ride service runs seven days a week, is situated at a purpose-built location on the M275 entrance to Portsmouth.

The service includes:

◦
Free Wi-Fi

◦
£4 a day

◦
A smartcard system offering substantial savings

More information about
park and ride
.

No need to pay to get into the Dockyard, just say you are dining at Boathouse 4